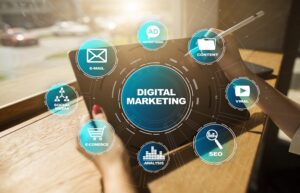 How can digital marketing accelerate business growth?
Are you wondering, is it worth investing in digital marketing ? We'll tell you bluntly: yes, and you're already losing money by hesitating to take this turn.
When we talk about digital marketing, we include all marketing activities deployed online to reach prospects, for example a website or blog, social networks and digital advertising.
Is it necessary today to display a web presence?
Yes. Whether you are an SME that wants to be known or a multinational that wants to maintain a relationship with its customers, having a web presence is the basis for achieving what you want .
Why is it essential to be present on the Web?
To seize opportunities that you are currently ignoring. 87 % of product or service purchasing processes begin online . By not having a web presence, you lose 100% of those opportunities.
Why is it essential to be present on the Web?
An online presence can help you achieve virtually all of your business goals. Increase your notoriety, attract more customers, retain your customers, triple your turnover: these are all goals that you can achieve .
Do you want to develop a digital strategy?
Where to start?
If you are starting your digital transformation, there is a lot to do! You can use multiple channels and deploy a massive web marketing strategy that would monopolize dozens of employees.
Everything is possible on the web. The sky is the limit!
But, that doesn't mean they are all essential for your online marketing to be successful. You could only have two and that would be enough.
So how do you know where to start? To answer this question, let's remember what web marketing is for. It serves to get your message in front of the right audience, i.e. your potential customers .
Where to start for your digital marketing?
You should focus your efforts where you think you can reach them, period. Because there's no point being on Twitter if none of your customers are. You would be wasting time.
We strongly advise you to start with an analysis of your target audience, your current situation and the digital ecosystem in which you are evolving or will evolve. This will allow you to make informed decisions.
3 essential digital marketing tactics to accelerate growth
1. Online Advertising (Google Ads, Facebook Ads, LinkedIn Ads, etc.)
To accelerate your online growth, you'll need to plan both short-term and long-term tactics . Online advertising is a short-term solution to gaining visibility.
Although this traffic will stop the moment your campaigns end, this tactic will pay off as it will help your organic SEO. PPC campaigns can be used to give you an idea of ​​how competitive certain search terms are.
Advertising, a tactic for digital marketing
Digital advertisements include those on social media and on search engines like Google Ads. The idea is to choose the platform that will reach your target audience the most.
2. Organic SEO (SEO)
One of the most obvious tactics is organic SEO, which is the effort you make to increase your position in search engine results . When someone types in a term related to your business, you want to be first in the search results .
To achieve this goal, you will need to optimize your website pages for keywords relevant to your business. It is very likely that the ones you want to position yourself on are hyper-competitive . You can then think about setting up content marketing , which would include blog posts and value-added content.
SEO, a tactic for digital marketing
In your natural referencing, you will also have to work on technical aspects of your website such as loading speed or content indexing. In addition, to demonstrate your credibility, you must have external links pointing to your website.
3. Retention of current customers
Once you've successfully won SEO and PPC clients, you need to keep them!
Nothing equals a hypersatisfied person talking about you to those around them and even on social networks.
Use current customers as tactics for your digital marketing
In the digital strategy you put in place for your digital marketing, you should have a customer retention tactic. With email marketing and social media, you can nurture your relationship with them and even succeed in selling them more products or services .
What are the tools in digital marketing?
Many paid and free tools can help you with your web marketing. We present to you some of our favorites!
To put you in context, our client Weed Man, who offers lawn maintenance services, had to start a shift towards online marketing to reach a new clientele. It was now impossible to completely base their strategy on door-to-door and flyers.
In order for the company to be visible on the Web, we created educational content that answered Internet users' questions. Weed Man has become the reference for all problems and solutions related to lawn maintenance.