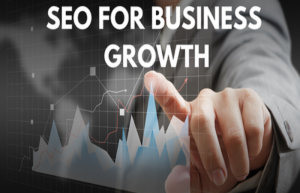 How SEO helps your business grow
Looking for ways to improve your business? If you own a business, large or small, you need to make sure that you are doing all you can to ensure its success. If you want to reach more customers and grow your business, search engine optimization (SEO) is a strategy you can't afford to ignore.
SEO strategies help businesses improve their online visibility on search engines like Google. By optimizing your website and using SEO best practices, you can attract more visitors, increase your sales, and outpace your competitors.
How does SEO impact your business?
You run your business and manage day-to-day operations. But that's not all you do. You should always keep an eye on customer acquisition. Without customers you have no sales and without sales you have no money and you go broke.
This is where digital marketing strategies come into play and ensure that you have a steady stream of inbound buyers for your products or services.
It is estimated that by 2040, 95% of purchases will be made through e-commerce.
More Website Traffic = More Customers
SEO is just one of the many marketing methods available in the marketing world, but it remains one of the most effective.
When done correctly, SEO can help you increase your visibility on various search engines and drive traffic to your website. Obviously, the more visitors you have, the more conversions you will have.
Build Relationships
In addition to helping you attract new customers, SEO can also help you build relationships with existing customers by making it easier for them to find your business and learn more about what you have to offer.
Create Authority
For businesses, ranking high on the SERPs can be the difference between getting noticed and remaining invisible. Not only does this help increase traffic to your website, but it also helps build your brand value and authority in your field.
As your brand authority increases, your chances of generating leads and converting sales also increase.
When customers see that you consistently appear at the top of search results, they will begin to see you as an authoritative source of information.
By continuing to use techniques such as SEO to improve your rankings, you will only solidify your position as a leader in your area of ​​expertise
Which companies benefit the most from SEO?
In recent years, digital marketing has become increasingly important for businesses of all sizes. So, if you want to succeed in this digital age, you need to make sure you are visible on the first page of search engine results pages.
While all businesses can benefit from SEO, some have more to gain than others. Businesses in highly competitive industries, such as retail and travel, can use SEO to gain an edge over their competitors.
Likewise, small businesses with a limited marketing budget can use SEO to get more bang for their buck. In the past, small businesses could rely on word-of-mouth and traditional marketing techniques to attract customers. But now that is not enough.
How does local SEO work?
When people search for information online, they typically turn to Google and other search engines.
If your business isn't showing up in Google search results, you're missing out on a lot of potential customers. This is where local searches come in
Should my business invest in an SEO strategy?
Wondering if you should invest in an SEO strategy? Maybe you have a limited budget, you need to get the best ROI possible for every dollar spent. SEO is one of the many strategies you can choose from.
Why is that? Because it is a technique that generates quality traffic and online visibility based on low cost activities. In other words, you put in an initial investment and get the benefits of SEO over a long period of time. By targeting specific keywords and phrases, businesses can improve their chances of appearing on the first page of Google and generating a good amount of traffic.
It is often considered that organic traffic is often more valuable than traffic from ppc advertising. Paid search results and other marketing approaches are often temporary efforts. They usually last as long as you keep pouring money into the campaigns.
SEO, on the other hand, is more of a passive approach and will continue to generate leads and increase sales over a longer period of time.
How to improve your online business with SEO?
 This means writing blog posts, articles, and other things that are interesting, informative, and relevant to your target audience.
Other types of content may include infographics, images, product descriptions or reviews, and videos, provided you provide useful and informative content.
Familiarize yourself with Google Analytics
Get to know this invaluable tool to identify and measure your technical SEO efforts. Among other features, Google Analytics can show you where traffic is coming from and how it is flowing through your site and ranking page.
You can search the web to learn how to use free and useful SEO tools.
These tools help you quickly identify target keywords to aim for by looking at what most visitors search for on Google. Additionally, these tools often come with issue detection that checks your site for potential pitfalls such as keyword stuffing.