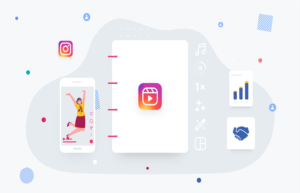 How to get more views with Instagram Reels?
Our tips for getting more views on Instagram Reels
Thanks to Instagram Reels , you will be able to create video montages to highlight your business and your activity. So you can create and upload as many videos as you want. The only restriction: the reels must last less than 60 seconds. Instagram has planned to increase the length of videos and should offer a 90-second format in the coming months.
Steps to get more views on your Reels
With over a billion users on Instagram, you have the opportunity to make your product, service or business visible to a large number of customers and prospects.
1 – Use the tools provided by Instagram
You can create your reel directly on Instagram if you don't want to use editing software like iMovie or Adobe Premiere . You will have access to filters, visual effects, stickers or even tools to edit your music. These tools will help Instagram's algorithm rank your content better. To get the most out of it, it is therefore important to use Instagram's editing tools to boost your visibility on the social network.
2 – Take care of your introduction
If you want to get the most views possible, take care to work on the opening of your reel in order to capture the user's attention. You can use a video sequence, likely to attract the user's eye, play with a sticker provided by Instagram tools or use a text that will serve as a "punchline", such as a problem that a user may encounter and for which your product or service will help solve it.
3 – Use the right hashtags
These keywords found under Instagram posts follow the same principle as keywords, used for natural referencing. These hashtags will be used by users to find relevant content based on their search on Instagram.
4 – Don't forget to add a CTA (action button)
The CTA or call-to-action , is a button that we use to push the user to perform an action . In your case, it is interesting to use some at the end of your reel so that your subscribers carry out an action towards your website or your online store, for example, after viewing your Instagram reel.
Make sure you meet their requirements in order to lead them to a page or website that will answer their problem. If so, they will also check your other reels.
5 – Highlight a relevant and engaging message
On each of your reels, make sure that there is a message that will be delivered to the user following viewing. There is no point in sharing a reel just to say to share content. You need to think about what you want to highlight to enhance one of your products or services. You need to share a consistent, relevant, and engaging message for your followers.
6 – Choose a memorable and attractive thumbnail
When users visit your profile, they will see a photo instead of the video. They won't be able to see your reel until they click. It is therefore important to take good care of your thumbnail in order to attract the user's eye . You can, for example, use your logo or a thumbnail, more worked and which will be easily recognizable and which will make you want to click.
7 – Use subtitles
Have you ever watched a YouTube video or an Instagram reel without sound?
If you have already done this, it is because the video had subtitles and therefore this technique works.
So you understood, if you have a dialogue that takes place in your reel, consider adding subtitles to allow your subscribers to watch your video by lowering or turning off the sound of their phone, their tablet or computer.
In addition, you will also allow users, visually impaired or with visual impairments, to consume your content without problems.
8 – Share your Reels in your story
To ensure that your video is seen by as many users as possible, consider sharing it in your story so that your subscribers can then watch it in full.
In addition, it is important that your reel is also shared by users in order to increase the number of views and boost the visibility of the latter. To do this, you must offer a video that is engaging, relevant and qualitative to encourage sharing.
9 – Remember to use the music of the moment
To make your reel viral and encourage its sharing by your subscribers, consider using music that your audience likes. Using current music will increase your chances of being shared by users.
You can analyze the different music that is used for reels in your News Feed and get inspiration from it.
You now have all the cards in hand to increase the number of views on your reels in order to promote your expertise, your know-how as well as your products and services.